About the Center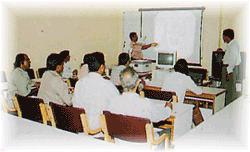 Established in May'99 in the sprawling surroundings of Export Promotion Industrial Park, Chandaka and amidst the many technical institutes there around, the center provides an ideal environment for the training to personnel and their assisting staff engaged in supervision, O & M in the Hydropower plants. It is the only one of its kind on this part of the country's coast. Built with the assistance of Department for International Development (DFID) - Govt. of U.K., this model institute adopts modern power plant procedures in line with European practices.
It has been accredited with recognition by Central Electricity Authority as stipulated in the Indiddffan Electricity Rules and is an authorized center for imparting such training. Available infrastructure also facilitates organization of MDP and seminars. Modern methodologies of class-room presentations with the use of OHP and LCD projectors / panels get supplemented with well equipped laboratories and workshops.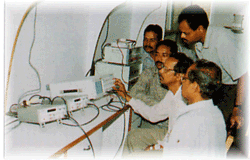 Air conditioned class rooms ensure continuous curriculums throughout all seasons of the year. Computer facilities and use of CBT aided packages in training herald the computer culture of new millennium.High-tech equipment like signal generators, programmable logic controller and HV test probes are a part of the inventories.
In-house reprographic facilities and well furnished stores for workshop-consumables help the center to function self sufficiently.
The cool and comfortable cafeteria within the institute caters healthy and hygienic food.